Newsletter Video, April 2020
Click Below - Add Your Own Comment
Lifting Weights Safely
Get started building muscle safely by following these tips:
Ask your physical therapist or doctor first before you start any exercise program.
Start slowly, especially if you haven't been active for a long time. Little by little, build up your activities and how hard you work at them.
Pay attention to your body. Exhaustion, sore joints, or muscle pain mean you're overdoing it.
Use small amounts of weight to start. Focus on your form, and add more weight slowly, over time.
Use smooth, steady movements to lift weights into position. Don't jerk or thrust weights.
Avoid "locking" your arm and leg joints in a straight position.
Don't hold your breath during strength exercises. That could cause changes in your blood pressure. Breathe out as you lift the weights and breathe in as you relax.
Ask for help. To get started, schedule a session or two with one of our therapists or ask for a personal trainer recommendation.
Physical Therapy is More Effective than Steroid Injections for Knee Arthritis Pain
Here's a good infographic from the New England Journal of Medicine and Massachusetts Medical Society summarizing the study findings.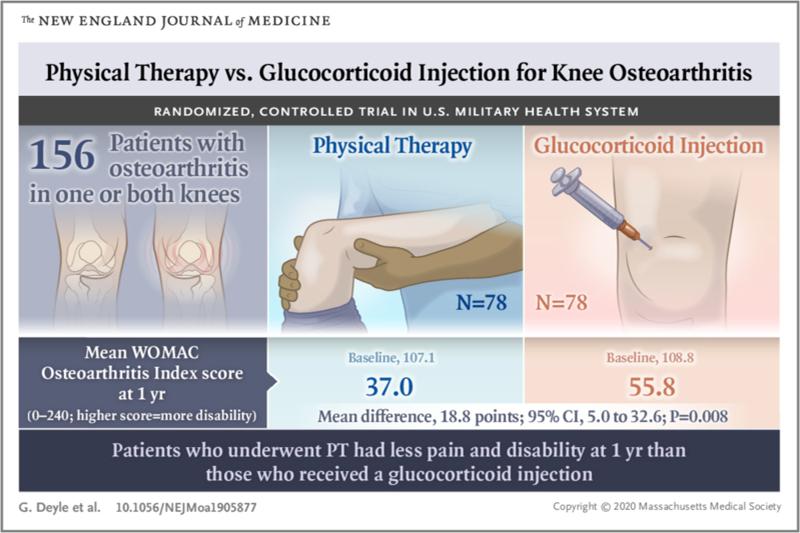 Please share this with others and if you or someone you know is suffering with arthritic knee pain, have them give us a call.
Disclaimer
The information in this video is intended for informational and educational purposes only and in no way should be taken to be the provision or practice of physical therapy, medical, or professional healthcare advice or services. The information should not be considered complete or exhaustive and should not be used for diagnostic or treatment purposes without first consulting with your physical therapist, occupational therapist, physician or other healthcare provider. The owners of this website accept no responsibility for the misuse of information contained within this website.